Mail Order Phone:
Manchester Superstore:
Store Hours:
Camping Gas Bottles
Camperlands stock a wide range of camping, BBQ and caravan gas bottles in Manchester. We offer both new cylinders and gas bottle refills from Campingaz, Alta Gas and Calor Gas, and stock both Butane and Propane gas bottles. Whether you need caravan gas, a camping gas bottle or gas for BBQs, a patio heater or indoor heater at home, Camperlands are your Manchester gas bottle supplier. Camperlands also stock gas bottle fittings and regulators and can offer expert adivce to ensure your camping or caravan gas supply is connected safely.
Although we do not offer delivery on these bottles, Camperlands do offer both new gas bottles and gas bottle refills / exchanges from our camping shop in Manchester.
Gas Bottle Brands
Campinggaz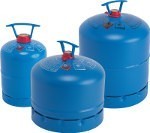 Campingaz offer 3 sizes of refillable gas bottle, all relatively small and all containing only Butane Gas. The available sizes are;
901 - 0.4kg of gas (Discontinued)
904 - 1.8kg of gas
907 - 2.72kg of gas
With the 907 being the most common of these gas bottles for camping.
Campingaz is distributed worldwide with a reliable supply accross Europe. This makes Campingaz bottles the best ones to go for if you are planning camping trips on the continent or if you need a more compact bottle.
To connect your gas appliance to any Campingaz refillable bottles you should use the Campingaz screw on regulator with low pressure gas hose and clips, although there are a few appliances which can connect straight onot this bottle.
Due to the small size of the bottles and the cost of maintaining international distribution, Campingaz is often the most expensive brand per kilo of gas. If you are not planning on using your gas bottle abroad you have a couple of cheaper options.
Calor Gas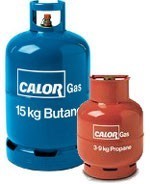 Calor Gas Bottles are available in a variety of sizes from 3.9kg small camping gas bottles to 47kg Propane bottles for caravans and fork lift trucks. Calor Gas supply both Butane and Propane Gas Bottles and have distribution across the UK adn can be found on most campsites, camping shops and can also be bought from many petrol stations, DIY shops and garden centres. Because they are available nationwide, Calor Gas Bottles are the usual choice for camping and caravanners staying in the UK as they are cheaper per kilo than Campingaz bottles, and the larger bottles sizes mean they need refilling less often.
Calor Gas bottles use different regulators depending on the size of the bottle and whether they are filled with Propane or Butane. See the regulator guide below for the correct fittings for Calor Gas Bottles.
Patio Gas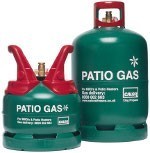 Patio Gas is a special sub-brand of Calor Gas. Patio Gas bottles contain the same Propane gas as normal Calor Gas Bottles. Camperlands do not stock or exchange Calor Patio Gas bottles, however, if you have a BBQ, patio heater or other gas appliance using Patio gas it is very easy to convert to use the normal, and usually cheaper, Calor Gas bottles. You can convert to either Propane or Butane by simply changing the regulator (gas bottle connection) on your Patio gas appliance to the standard type. See the gas regulator guide below to select the appropriate regulator for your bottle and device.
Alta Gas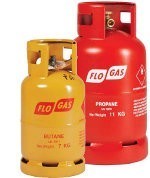 Like Calor Gas, Alta Gas bottles are available in a variety of sizes from small to large, and Alta gas provide both Butane and Propane Gas Bottles. They use the same regulators as Calor Gas Bottles and, of the 3 brands, are usually the cheapest to purchase a new bottle and are cheaper per kilo of gas when refilling a bottle.
However, Alta Gas bottles are only available in the Manchester area but their lower prices make them the cheapest way to run your BBQ, Patio Heater or other home gas appliance if you live in this area. Any appliance that runs of Calor Gas can use an Alta Gas bottle insread.
Unfortunately Camperlands can not exchange one brand of gas bottle for another. Camperlands offer changes of gas bottle size within the same brand at our discretion and depending on availability at the time.
Butane Vs. Propane
When choosing a gas bottle you have the choice of 2 different types of gas - Propane and Butane. So, which is right?
Propane
Butane

Propane is regulated at a higher pressure (37 mbar) than Butane and has chemical additives which stops the contents of the bottle thickening and becoming inert at low temperatures.

The higher regulated pressure allows an increased maximum rate of gas flow making Propane the better choice of gas for patio heaters, large BBQs and other high power appliances.

The chemical additives, and effective lower freezing point, makes Propane work at temperatures approaching freezing and even slightly below, where Butane would thicken and not properly fuel the appliance. This makes Propane the gas for hardy caravanners on the campsite at all times of year.

Butane does not have the chemical additives that Propane does so it is a cleaner gas and, at the moment, is a little cheaper per kilo than Propane. While Butane can become inert at very low temparatures this is not a problem at times of the year when most people are camping and caravanning.

The lack of additives means Butane doesn't leave the same dirty deposits in your gas appliance as Propane can so your BBQ or camping stove will last longer. Combined with the current lower price and wider availability this makes Butane the better choice for most camping stoves, BBQs, camping fridges and cabinet heaters (a.k.a. Calor Gas Heaters).
Gas Bottle Regulators
When using gas bottles to power appliances such as Camping Stoves, BBQs, and heaters you need a pressure regulator to safely connect to the bottle. Used in conjunction with a gas hose and jubilee clips gas bottle regulators supply the appliance with gas at the correct pressure and gas flow rate for safe operation.
There are a few different types of regulator with details of each given below, including which gas and bottle sizes they are compatible with.
If you have a caravan or motorhome your regulator is usually built in to your vehicle gas system and all you need is a pigtail gas hose to connect your gas bottle to the regulator in your cupboard or gas locker.

Campingaz Butane Regulator - This regulator fits to all 3 sizes (901, 904 & 907) of Campingaz Gas Bottle. It screws on to the top of the bottle to give a regulated pressure of 28 mbar.

Clip-on 21mm Butane Regulator - Fits to all Calor and Alta Gas Butane bottles except the 4.5kg calor Gas (Dumpy) bottles. Easily clips to the top of the bottle to give a regulated pressure of 28 mbar.

Screw-on 4.5 Calor Butane Regulator - Special regulator to fit the 4.5Kg Calor Gas Bottle only. This regulator screws to the side of the bottle tap to give a regulated pressure of 28 mbar.

Screw-on Propane Regulator - This regulator fits to all Propane gas bottles supplied by Camperlands from both Calor Gas and Alta Gas except the specialist Fork Lift Truck bottle. This is a REVERSE THREAD (clockwise to loosen) screw on regulator which gives a regulated pressure of 37 mbar.
If you have a screw on regulator you may need a gas spanner to take the regulator on and off the gas bottle. And remember, if you are having trouble removing a Propane regulator it is reverse thread.
Patio gas
Patio Gas is a special sub-brand of Calor Gas. Patio gas bottles contain the same Propane gas as normal Alta Gas and Calor Gas bottles but use a different regulator fitting.
Camperlands do not sell or exchange Calor Patio Gas bottles as they are not as widely available as normal Calor Gas and can be more expensive for the same gas.
However, it is easy to convert any Patio Gas appliance to use standard Calor Gas Bottles which are often cheaper and more widely available. Any appliance that runs on Patio Gas can be run equally well on standard Alta Gas and Calor Gas Propane or Butane bottles*.
To convert your device from Patio Gas to use standard Calor and Alta bottles, simply remove the existing 28mm clip-on regulator from your Patio Gas appliance and and fit the appropriate regulator as outlined above. You can keep the same gas hose and clips and can now run on your choice of Calor and Alta gas bottles.
* Remember, patio heaters and large BBQs work better on Propane

AgentFiamma
Unique and innovative range of caravan and motorhome accessories.
Northwest Towbars
Accredited towbar fitting specialist in Greater Manchester for all makes of car