Mail Order Phone:
Manchester Superstore:
Store Hours:
New Trailer Tent Display
Camperlands' new Camp-let and Trailer Tent display is the biggest dedicated indoor display in the country covering over 6,000sq ft. for Trailer Tents and Camp-lets alone. You can view an extensive range of both new and Used Trailer Tents all in one place with expert staff always on hand to offer help and advice and answer any questions you may have.
Our new indoor Trailer Tent Display is open all year round come rain or shine and the kettle's always on. So, whenever you're looking for a Trailer Tent or Folding Camper you can shop at your leisure in a relaxed and comfortable environment.
New Trailer Tents
With nearly 6,500sqft, our new permanent Trailer Tent display houses an extensive array of display models and demonstrators from the biggest brands as well as a few quirky, niche models and Camperlands exclusives. We feature many unique models and are the only place in the UK you can see the Camp-let Trailer Tents on display throughout the year.
At Camperlands you'll be able to see models to suit all types of campers from the compact and light Campmaster AIR, camping in style with Camp-let, big beds and spacious awnings in Trigano's family trailer tents, and the Camplair range for those after simplicity on a budget. The Oztrail Quest is the latest trailer design from Australia which is now imported by Camperlands for the 2017 season.
As well as fully erected models we have demonstrators to erect to help show how each model works. Take your time to wander round the display, examine all the models, watch the demonstrations and ask all your questions. Then, check out the offers board for deals, consider your options and make a decision. in your own time.
Used Trailer Tents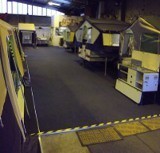 Our selection of used Trailer Tents and Folding Campers is constantly changing so there's always something fresh to see. And with anything up to 30 Second Hand Trailer Tents in stock at any time we should have something to suit all requirements and budgets.
We're happy to demonstrate any model so you can see them opened up and folded and get a proper understanding of what you're buying. There's no need for an appointment to view and you can buy with peace of mind knowing every trailer is checked and services before you take them away.
Relaxed Shopping
At Camperlands we don't believe in pressure sales so you're free to browse and shop in a relaxed environment. We understand that buying a Trailer Tent, Camp-let or Folding Camper can be a big investment and we want you to enjoy your holiday so it's important to make the right choice.
Our friendly and helpful staff will never pressure you but will be on hand to provide information and offer advice. There's free tea and coffee for all comers and maybe even a biscuit. So come down and grab a brew and tell us what you're after and we'll help you to find something that suits.
Trailer Tent Display - Unique Models
As well as being the only place to see the Camp-let Trailer Tents at any time of year, Camperlands also display other unique and Special Edition trailer tents that you won't be able to see anywhere else.
---
Camp-let Limited Editions
Obviously, as the UK importers, Camperlands is the place to go to see the Camp-let range. But, Camp-let also produce limited Special Editions models exclusively for the UK market and these often feature in our display.
---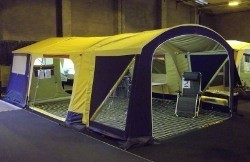 Trigano Galleon - UK Edition
The Galleon UK Edition is a specila model Trailer Tent made exclusively for Camperlands. It has an awning extension included which make it one of the most versatile family Trailer Tents on the market.
The 1.7m extension can be used to extend your main awning or connected direct to the cabin and used on its own. This makes the Galleon UK great for family camping on both short trips and long holidays. The Galleon UK can only be seen at Camperlands Manchester showground.
---
Campmaster AIR
Another Trailer Tent you can only see at Camperlands is the Campmaster AIR. A compact 2 Berth model with the latest air tent technology. The trailer body measures only 140cm long and 100cm wide and, at only 150 kgs, can be towed by even the smallest of cars and some motorbikes.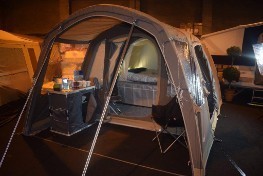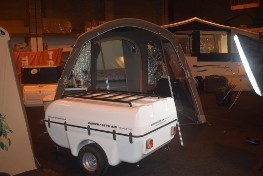 More details on Campmaster AIR Trailer Tents.

AgentFiamma
Unique and innovative range of caravan and motorhome accessories.
Northwest Towbars
Accredited towbar fitting specialist in Greater Manchester for all makes of car