Mail Order Phone:
Manchester Superstore:
Store Hours:
Inflatable Tents & Awnings
Inflatable tents seem to be this year's latest big thing in the camping market and it seems like everyone's talking about them and every manufacturer has their own. So, what's all the fuss about? Whose is best? And, should you buy an Inflatable Tent?
Why buy an Inflatable Tent?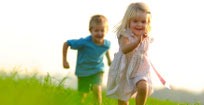 Inflatable Tents are quicker and much easier to pitch than conventional dome and tunnel tents and can be erected by one person no matter how big they are. So, if there's always one parent chasing kids across the Campsite, or you're just fed up with the usual arguments, an inflatable tent could be the solution.
The same benefits apply to inflatable awnings. They can be pitched single handed, take less time and have the added advantage that there are no poles to scratch or knock against your van keeping you awake at night.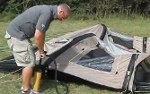 Some people point out that an Inflatable Tent still needs to be pegged and, since this is what takes the time when pitching, they aren't much faster than traditional tents. However, think about the time you spend sorting out the poles, figuring out where each one goes and getting them through their sleeves each time you go camping. Now consider 30-60 seconds with a pump.
To pitch an Air Tent you usually start by pegging it out (you don't want it to blow away after all) then simply connect a pump to the valve(s) and pump it up. There are no poles to assemble, no threading through sleeves or bending into shape, no fiddly pins to get in the pole ends, and no complex instructions to figure out.
Since the "poles" stay in the tent when it's packed this means you avoid having to remember how the whole things goes together when you get the tent out for the first time each year.
Air Tents - The latest big idea
The idea of an Inflatable Tent has actually been around for quite a while but it's always been considered a bit of a gimmick. It's only recently that the big manufacturers have begun to take them seriously and brought out a range of Air Tents and Inflatable Awnings built to a good standard which makes them a real option.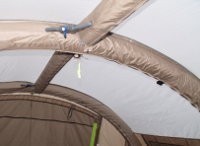 The current range of inflatables coming to the market look like the normal dome and tunnel tents that we're all used to, but are fitted with blow up tubes instead of fibreglass poles or a steel frame.
Air Tents are available in all sizes from festival tents to Family Tents and, if well made, offer certain advantages over the standard versions. You can also now buy an Inflatable Awning based on the current crop of lightweight porch awnings and motorhome drive-aways which offer the same benefits.
Whose is Best?
Having looked at the offerings from all the big names and compared what's on offer Camperlands have chosen to stock the Kampa range of Inflatable Awnings and Tents for 2013. Kampa's air system offers easier inflating, better structure and their inflatables have more upgrades in quality to make them worth the money.
Over the last few years Kampa have become known for producing some of the best quality Family Tents of any manufacturer and their lightweight awnings consistently beat the competition. Since Inflatable Tents are more expensive than normal dome tents it makes sense to invest in quality so you're sure your tent will last.
---
Superior Materials
On all their Inflatable Awnings and Tents Kampa use a 150D polyester flysheet which is much thicker and more durable than normal dome tent from even high quality brands (2 to 3 times the weight) and achieves an outstanding 5,000mmHH for waterproofing so you know it's going to last.
---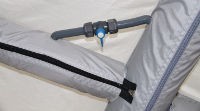 Improved Structure and Easier Inflating
Kampa also use a different structure to their Air Tents to most manufacturers. Most inflatable tents are tunnel design with ribs going across from one side to the other. On Kampa Inflatable Tents the main cross beams are connected by ridge beams and valves along the centre of the roof. This offers a few advantages.
The ridge beams give the Kampa Air tents a better structure supported along its length as well as side to side.
Because all beams are joined you can inflate from one point without having to connect and disconnect the pump several times. The point of Air Tents is to be easy after all
Cut off valves between beams mean if you do get a puncture in one beam you can isolate it so the rest of your tent stays up.
Because all the beams are connected the air can escape from any of the pumping points making it easier to get all the air out when packing the tent and getting it back in its bag.
---
Higher Pressure
Due to the quality of materials and manufacture Kampa Air Tents can be inflated to a higher pressure than other brands. The recommended pressure is 10 - 12psi but the beams have been tested up to 22psi to ensure no punctures as pressure increases on hot days and each beam is tested for 48 hours in the factory prior to use.
The extra pressure also gives the tent a more rigid structure so it's more stable and secure in traditional British summer weather.
---
Pump and Gauge Included
For easy pitching all Kampa Inflatable Tents and Awnings come with a large volume double action pump to make sure the tent is pitched in no time and a pressure gauge is included to make the sure the tent is inflated correctly.

AgentFiamma
Unique and innovative range of caravan and motorhome accessories.
Northwest Towbars
Accredited towbar fitting specialist in Greater Manchester for all makes of car