Mail Order Phone:
Manchester Superstore:
Store Hours:
Inflatable Trailer Tent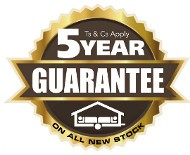 Designed from the start with ease and comfort in mind, the Campmaster Air is intended to open the joys of Trailer Tent camping to a new group of people. Combining the ease and simplicity of an inflatable tent with an ultra-compact, lightweight trailer. Whether you're novice campers or uncertain about towing the Campmaster Air will give you the gentlest introduction to both worlds and ensure you happily keep coming back for more.
2018 Award Winner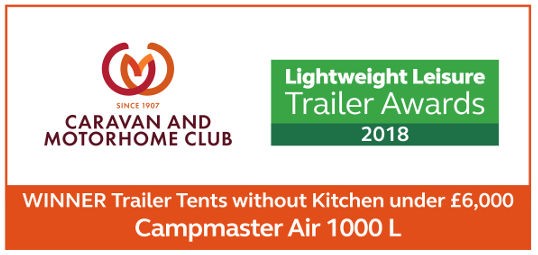 Simplicity & Ease - Trouble Free Camping for Two
If you've ever been tempted by the idea of Trailer Tent camping but are unsure about towing bigger trailers, or you're part of a couple where the burden of driving always falls to one person because the other won't tow, the toy size Campmaster trailer will let you share the load and explore more freely without undue angst.

If you're not as mobile as you used to be or are a seasoned camper fed up with faffing about with framework, the Airbeam inflatable tent will make life easy again. Meanwhile, the off-ground sleeping, luxury mattress and sealed bedroom will let you sleep in comfort and bug-free. The Campmaster Air is perfect for those who want to get into camping without going completely back to basics.

Whether you're a young couple wanting to make the most of your freedom, or an older couple ready to leave hard work behind, the Campmaster Air removes the barriers to camping in comfort by making pitching easy and towing a delight.
2017 Campmaster Air Introductory Video
The Tent
The starting point for the Campmaster Air is a specially modified version of an inflatable tent from one of the market leaders. Specially selected for its high quality materials which combine warmth, breathability and durability. These well ventilated Polycotton Campmaster tents remain cool and comfortable on warmer days and combined with the sealed groundsheet and cotton inner helps to retain heat through the night. The Campmaster Air tent comes complete with enclosed and walled canopy for outdoor covered seating. The 2018 Campmaster Air tents have only 4 inflatable beams so pitching couldn't be easier.

The price includes the original inner-tent and bag so you can use the Airbeam as a proper tent.
The Living Quarters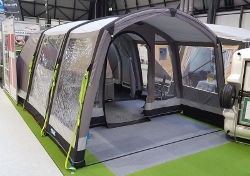 Sealed, cosy, draft-proof and carpeted - at night the Campmaster Air living area is a cosy, private haven for 2 people with space for table and chairs. But pull back the window covers and find yourself surrounded by light in a bright and airy living space for during the day. Later on, sit out under the canopy for BBQs on sunny evenings and drinks on starry nights.
Bedroom area/Sleeping area
One of the key attractions of Trailer Tents over 'basic' camping is sleeping off the ground on a warm, soft bed. And so the Campmaster Air delivers with a full double 4' 6" bed on luxury foam which cushions and insulates. Set in a zip sealed inner tent with steep, vertical walls which ensure the Campmaster bedroom never feels claustrophobic and made from thick natural cotton to retain heat and remain snug.

There are no mid-night stumbles across the campsite with the Campmaster Air with a bedside toilet chamber and private dressing room next to the bedroom.

To increase comfort and storage within the tent, there are several optional extras such as bed skirt pockets, memory foam topper and divider wall with mirror.
The Trailer
As one of the most compact and lightweight tent trailers available, the Campmaster Air's minimal side profile mean side winds and snaking are simply not an issue and at only 1 metre wide you have no worries about going wide around bends or the trailer cutting corners. It will stay within the wheel tracks of the car in all but the tightest of Alpine hairpins.
The miniature dimensions mean there is no vision obstruction and its extreme low weight make for pleasurable towing and mean any modern road car will deal with hills with ease. Novice towers will find the Campmaster easy to handle and experienced towers will feel a burden lifted.
The minimal dimensions also mean minimal storage and the fibre-glass body can never rot or corrode. Suitable for covered outside storage, or it will take up minimal space in the garage. The Campmaster is durable, weatherproof with very little maintenance required.
For 2018 we have 2 different trailers.
Campmaster AIR 600L Trailer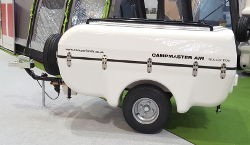 Campmaster AIR 1000L Trailer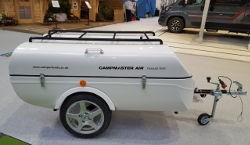 Further Comfort
You can add further comfort to your Campmaster Air by selecting from a range of options including soft and supportive memory foam mattress upgrade or bed skirts with handy storage pockets.
CAMPMASTER AIR OPTIONS LIST

| | |
| --- | --- |
| Spare wheel - slim (400 x 8) | £45.00 |
| Spare wheel – chunky (16.5 x 6.5-8) | £82.00 |
| Spare wheel carrier | £58.00 |
| End storage bracket | £179.00 |
| Suspension upgrade to gross max weight of 300kg | £108.00 |
| Mains light with lead and switch (bulb not included) | £25.00 |

| | |
| --- | --- |
| Fitted Awning Carpet | £64.00 |
| Stone protection sheet | £38.00 |
| Bottom skirt \ toilet door with mirror | £92.00 |
| 3 socket mains kit | £49.00 |
| Swivel hitch upgrade for solo motorcycles | £108.00 |
| Memory foam topper with washable cover | £125.00 |
Multipurpose, Easy Store Trailer
Versatile Tent & Trailer

Whilst the Campmaster Air is predominantly a full blown 2 berth trailer tent, the design allows 3 options.

Use as a trailertent
Remove 4 bed bolts and remove the complete bed section. You now have a fully functional 600 Ltr luggage trailer for a multitude of uses
Use the Vango Airbeam tent- original inner tent and roller wheel bag so you can use the tent on its own for pure tent camping

Compact Storage

This specially designed and easy to fit bracket, means you only require a tiny area to store your Campmaster. It's also ideal for checking and maintaining your campmaster to save you crawling on your back
Easy to Use Storage Bracket
Pricing
Come and see the Campmaster on site at Camperlands.
10% DEPOSIT TO ORDER - BALANCE ON COLLECTION.
| Model | RRP | Offer Price |
| --- | --- | --- |
| 2018 CAMPMASTER AIR 600LX | £4,850.00 | £4,449.00 |
| 2018 CAMPMASTER AIR 1000L | £4,999.00 | £4,599.00 |
| 2018 CAMPMASTER AIR 1000LX | £5,250.00 | £4,799.00 |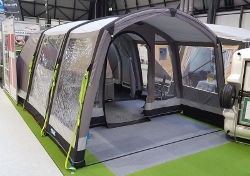 AS WELL AS GETTING A DISCOUNT ON THE 2018 CAMPMASTER THIS PACKAGE IS ONLY £99.00
Spare Wheel
Spare Wheel Carrier
Awning Carpet
Tent Footprint Groundsheet
3 socket mains electrics kit
Side door with mirror
Bottom Skirt
---
Where to see the Campmaster Air
Where to see 2018 Campmaster Range
Camperlands Manchester - Permanent
NEC Birmingham - October 2018
Full details to follow
The 2018 Campmaster Air is now on display at our store in Manchester.
To enquire or ask a question about the Campmaster Air please call 0161-902-3020 or email trailertents@camperlands.co.uk
---
Specifications
Trailer Dimensions
Trailer Body Length (Not inc. drawbar)
159cm
Trailer Overall Length (Inc. drawbar)
240cm
| Pitched Dimensions | Length | Width |
| --- | --- | --- |
| Pitch size including canopy | 600cm | 310cm |
| Pitch size without canopy | 495cm | 310cm |
| Trailer Net Weights | Cotton | Polyester |
| --- | --- | --- |
| Campmaster Base Model without options | 165kg | 149kg |
| Campmaster Air with Options* | 175kg | 159kg |
*Model with options includes Carpet, Chunky spare wheel, spare wheel carrier, underbed skirt and toilet divider wall
For solo motorcyclists there are laws for the distance from the centre of the rear wheel to the rear of the trailer. The Campmaster drawbar can be adjusted to suit. Please ask for written details.

AgentFiamma
Unique and innovative range of caravan and motorhome accessories.
Northwest Towbars
Accredited towbar fitting specialist in Greater Manchester for all makes of car