Privacy Statement

AgentFiamma
Unique and innovative range of caravan and motorhome accessories.
Northwest Towbars
Accredited towbar fitting specialist in Greater Manchester for all makes of car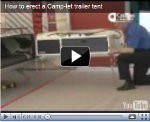 Camperlands Home Deliveries Team are committed to protecting, the privacy of anyone using our site and the confidentiality of any information, you provide us with. The purpose of this statement is to set out how we use the personal information obtained from you when using our website.
Use and collection of personal information
In general you can visit our website without telling us who you are and without revealing any information about yourself. If, however, you make a purchase from our site you will need to provide us with certain information such as your contact details. We will store this data and hold it on a computer or otherwise.
We may use information that you provide:
(a) To register you with our website and to administer it.
(b) To instruct parcel carriers where to deliver your order and provide a point of contact in case route directions are required.
(c) For assessment and analysis e.g. marketing, customer and product analysis, to enable us to review, develop and improve our services.
Cookies
Cookies are small text files which are saved on your computer or mobile device when you visit a website. They save little bits of information allowing websites to remember things such as your user name, items you have added to your shopping cart and whether or not you are logged in to your account.
A recent change to the law means websites must seek your permission to set cookies on your computer. This website requires cookies to function. Please only continue to use this site if you agree to us saving cookies on your device.
With most modern browsers it is possible to adjust the settings allowing you to block all, or just certain types of, cookies. If you choose to block cookies in your browser it may lead to the website not working properly. If cookies are saved on your device you can delete them at any time if you do not want the information to remain on your computer.
The vast majority of websites use cookies or similar technology to allow them to work or to help them work better. This website uses cookies for 2 main purposes:
To allow our online shop to work
To allow us to monitor and improve website performance
Online Shop Cookies
Camperlands website uses shopping cart software called X-Cart to run our online store. X-Cart uses cookies or similar technology for the following purposes;
To remember items you have added to your shopping basket
To remember your name / username for the greeting message
To remember whether you are logged in to your account
To remember your name and address details during checkout
To remember the website language
Payment details are not stored in cookies.
Google Analytics
Camperlands website uses cookies to send information to the Google Analytics programme. This allows us to monitor site performance and to see how our website is being used. Google Analytics collects anonymous data which allows us to see things such as how people found our website, how long they spent on the site, how many people visited a particular page and which links they clicked. We use this information to make improvements to the site and try and provide a better service. We can not identify or track individual users on our website.
Camperlands do not use cookies for targeted advertising or allow others to do so through our site and we do not pass on your details to any other organisation for any purpose.
Security and payment processing
Online credit and debit card payments are processed by Sage Pay, formerly known as Protx. All transaction information passed between our website and Sage Pay's systems is encrypted using 128-bit SSL certificates. No cardholder information is ever passed unencrypted and any messages sent to our servers from Sage Pay are signed using MD5 hashing to prevent tampering. You can be completely assured that no data passed to Sage Pay's servers can be examined, used or modified by any third parties attempting to gain access to sensitive information.

Once on the Sage Pay systems, all sensitive data is secured using the same internationally recognised 256-bit encryption standards used by, among others, the US Government. The encryption keys are held on state-of-the-art, tamper proof systems in the same family as those used to secure VeriSign's Global Root certificate, making them all but impossible to extract. The data held is extremely secure and Sage Pay is regularly audited by the banks and banking authorities to ensure it remains so.
We endeavour to take all reasonable steps to protect your personal information. However, we cannot guarantee the security of any data that you disclose online and we will not be responsible for any breach of security unless this is due to our negligence or wilful default.
General
You have the right to see personal data (as defined under the Data Protection Act) that we keep about you upon receipt of a written request and payment of a fee of £10. Any request should be sent to:
Home Deliveries Manager
Camperlands UK
Leestone Road
Sharston Industrial Area
Manchester
M22 9RN

Email: daniel@camperlands.co.uk