Mail Order Phone:
Manchester Superstore:
Store Hours:
Buying a Trailer Tent from Camperlands
If youíre thinking of buying a trailer tent or folding camper itís comforting to know Camperlands donít just take your money, hitch you up and wave goodbye.
This page explains the process we go through to ensure that Camperlands offers the best possible service from start to finish. Read through to understand the process or click the links to jump to the section you're interested in.
For every Trailer Tent purchase Camperlands follow the same process whether you want to pick up your trailer in a week, wait to get a tow bar fitted, or youíre shopping in winter and wonít collect until next year.
From your first visit to collection, Camperlands have developed a routine which ensures all trailers are comprehensively checked and every customer gets first class service from start to finish.
Before you buy
Trailer Tent Display
Here at Camperlands we pride ourselves on being the biggest Trailer Tent dealer in the UK, with a large proportion of our Manchester showground dedicated to displaying and demonstrating a comprehensive selection of Trailer Tents & Folding Campers.
Take your time to view our extensive stock of Trailer Tents For Sale with over 5,000 sqft of displays for both new and used trailer tents. You can see many popular models as well as Trailer Tents that canít be found anywhere else in the UK.
Dedicated Staff
At your service are dedicated, highly trained staff who deal with all aspects of trailer tents on a daily basis. Staff are always available but there is no pressure selling. We are happy to let you browse and help you to make the right decision to ensure you purchase the right model to suit your requirements.
Leaving a Deposit
Once you have made your choice you pay a small deposit to secure the deal. If the trailer is second hand it is then taken off sale, and all trailers are then booked into our workshop to be thoroughly checked and prepared for collection.
Preparing the Trailer & Pre-Delivery Inspection
Every new and used model goes through a thorough Pre-Delivery Inspection (PDI) to ensure everything is in order and it will provide hassle free camping and customer satisfaction.
We check all aspects of the trailer and awning including stitching, pegging points, zips, canvas, polework, chassis, brakes and electrics.
If, during the PDI process, any issues are found they are addressed and rectified. Any optional equipment is added to the trailer and any modifications that have been requested are carried out.
All checks apply equally to both new and used trailer tents and it is this process which ensures all trailers are upto standard and gives added peace of mind over buying from Ebay or other private sale.
Click the link to see what's checked in a PDI.
Collecting Your Trailer Tent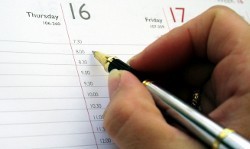 Booking your Collection
A convenient date and time for collecting your Trailer Tent can be booked when you order, or arranged by phone at a later date. The collection can usually be from 1 week to 3 months (and sometimes longer) from the date of placing the order.
On the Day
On collection a trained and dedicated member of staff will give you a complete demonstration of your trailer as well as offering advice on towing and maintenance to those that need it. This ensures that when you leave Camperlands you can be confident that you know what to do and what to expect when you use your new purchase for the first time.

How long will it take?
The collection process can take from 30 minutes to 2 hours depending on the style, size and complexity of the trailer and the experience of the customer. For used Trailer Tents this also gives you the chance to check the trailer for yourself and check any repairs and modifications that were requested.
Peace of Mind
Again, this collection service is the same for both new and used Trailer Tents, is completely free of charge and gives you added peace of mind over buying privately.
Once your handover is complete and you are happy with your purchase you then have time to look around the shop, pick up any trailer security devices you might need and pay the balance. We then hitch your new trailer to your car and do a final check on the road lights to ensure everything is as it should be.
Purchasing a Trailer Tent in One Trip
If youíre travelling a long way and want to make a purchase in only one trip this can be arranged in one of 2 ways.
Start by taking a look through the information & brochures available on our website or give us a call on 0161 902 3020 to discuss your requirements.
Think you know which model you want
If youíre confident of which model you want, you can place an order and pay a 10 % deposit by phone and arrange a date for collection. We will then check and prepare the trailer for collection as usual.
You can do this with the peace of mind from knowing that in the unlikely event that the trailer you have ordered is not as you expected on the day of collection, or you are unhappy for reason we will happily refund your deposit.
Not sure which model you is right for you
If youíre still not sure which model is for you but have narrowed it down to 2 or 3 models, give us a call. We can then check to make sure we have the models in stock and arrange a day for you to visit.
On the day you can then view and choose your preferred model in the morning, go for lunch while the trailer is checked and prepared, and collect the same afternoon.
Prior Arrangement Only
Both of these options are by prior arrangement only so please be sure to give us a call in advance.
---

AgentFiamma
Unique and innovative range of caravan and motorhome accessories.
Northwest Towbars
Accredited towbar fitting specialist in Greater Manchester for all makes of car