Mail Order Phone:
Manchester Superstore:
Store Hours:
Combined TT & Camper
Trailer Tents and Folding Campers both offer an upgrade in comfort and convenience over tent camping, but without the expense and hassle involved with owning a caravan or motorhome. Each option offers something different with its own benefits and considerations.
Trailer Tents
What is a Trailer Tent?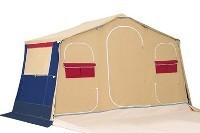 A Trailer Tent consists of a trailer from which a tent can be quickly unfolded and pegged to the ground, providing a sleeping cabin and usually a small seating area. The beds are hinged to the trailer and the framework and canvas of the tent are attached and contained within the trailer when folded.
In most cases a separate awning frame and canvas is then assembled and attached to the cabin to create a living area although, on some designs, the awning is pre-attached. IMAGE SHOWS CABIN SET UP FOR AN OVERNIGHT STOP
Why buy a Trailer Tent?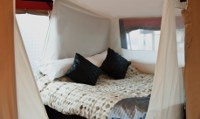 Warm, Comfortable Beds
The main advantage a Trailer Tent has over a tent is that the beds are off the ground. This makes them easier to get in and out of, and means Trailer Tent beds are warmer and more comfortable than sleeping on an air bed.
Long Life Span
Trailer Tents are also usually made from either cotton or Acrylic which offers better insulation and means they last much longer than modern nylon or polyester tents. The average lifespan of well-made trailer tents is between 20 and 30 years where as Nylon and Polyester tents are more of a disposible items with a life of a few years.

Lightweight & Easy to Tow
Trailer Tents have small trailers which are lightweight and easy to tow especially when compared to Folding Campers and Caravans. With weights from under 150kg up to around 500kg, trailer tents can be towed by almost all cars and there are versions to suit even small city cars.

Low Cost & Minimal Servicing
The majority of Trailer Tents can be side stored and require minimal servicing and maintenance. Trailer Tents are far cheaper to buy than Caravans, Motorhomes and cost much less to own in terms of servicing, insurance, storage and fuel bills.
Trailer Tent Prices
The vast majority of Trailer Tents include an awning in the price so it is not an expensive additional purchase. Good, second hand trailer tents start from around £1000 and new trailer tents range in price from around £3,000 up to around £8,000.
Folding Campers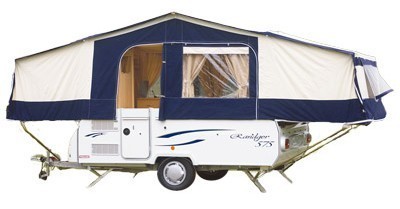 What is a Folding Camper?
Folding Campers are a large bodied trailer with a caravan style layout when erected. The cabin does not require pegging, which is ideal for overnight stops and weekend camping. A folding Camper will usually have more kit and equipment than a trailer tent.
Folding Camper Features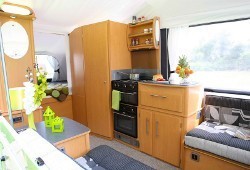 Fully Equipped Cabin
A folding Camper cabin section can be erected in 8 - 15 minutes and, depending on model, will have 2 - 3 double beds, kitchen and seating areas and may be fitted with mains and 12V electrics, wardrobe, hot and cold running water, fitted fridge, lighting and cassette toilet.
Optional Awning
Folding Campers can be fitted with a separate awning to provide more living space. Although often included within a package price, with Folding Campers and Caravans, the awning is an optional extra. This point is worth checking prior to purchase. These awnings can be time consuming to erect so are best used for longer holidays.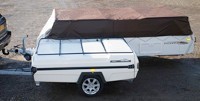 Larger, Braked Trailers
While they are lighter than Caravans, Folding Campers are heavier and bulkier than Trailer Tents. Weights will be from around 600kg to over 1000kg and Folding Campers will usually be fitted with a braking system. It is important to check the towing capacity of your car. This information can be found in your vehicle handbook.
Folding Camper Prices
Folding Campers can be considered as Caravans with a canvas roof and give many of the benefits at a cheaper price. New Folding Campers start from around £9,000 and go up to £14,000. Good second hand examples can be had from around £4,000.
Combined Trailer Tent and Folding Camper
The Camp-let is a unique combination of Trailer Tent and Folding Camper. It can be considered a folding camper because the cabin does not require pegging, but, it uses a small and lightweight trailer like a trailer tent and includes the awning.
Camp-let Offers Best of Both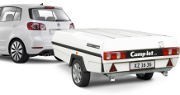 No Need to Change Your Car
The Camp-let trailer weight starts from under 250kg so can be towed by some of the smallest cars under 1000cc and even some trikes meaning there is no need to change your vehicle. Check your vehicle handbook for details on towing weights.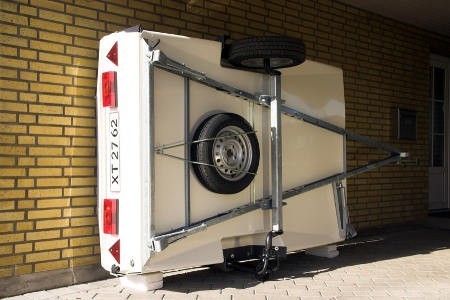 The Camp-let can also be easily side stored
Storage is an issue for many customers. A simple side storage system can solve that problem. Garage stored on its side or down the side of your house. Itís your choice. Most side stores include wheels so once the trailer is on its side it can be manoeuvred into the smallest of places.
Fast Pitching & Plenty of Space
Every Camp-let includes an awning which is pre-attached for ease of use. Due to the non-pegging cabin, like a Folding Camper the Camp-let is ideal for quick, overnight stops. However, the integral awning means, unlike a Folding Camper, there is no separate awning to pitch for longer stays.
Comfort & Equipment
The Camp-let has the best features of a Trailer Tent and offers the comfort and luxuries of a Caravan or Folding Camper. Models can include fully equipped kitchen, mains & 12V electrics, running water, heating, lights, slatted beds, wardrobe, fridge and comfortable seating area.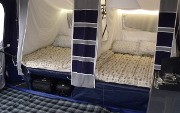 Warm, Comfortable Beds
All Camp-let models are fitted with 2 double beds which are extremely comfortable, stable and strong. Because the beds are entered from the end, there is no need to climb over anyone to get in and out. Most models can be fitted with a 3rd, or further, beds and a toilet area.
Long Life Span
Camp-lets use only the best quality cotton and Acrylic canvasses which are unsurpassed within the industry. These provide a lifespan of up to 30 years. Camp-lets are cheaper to purchase and insure and require less maintenance than Folding Campers and Caravans. Every Camp-let model can be side stored saving on storage space and cost. Read more on Camp-let Quality
All Benefits, No Drawbacks
Camp-lets offer the lightweight, low cost and ease of use of Trailer Tents, while retaining the features and equipment of Folding Campers and Caravans so you donít have to compromise on comfort.

AgentFiamma
Unique and innovative range of caravan and motorhome accessories.
Northwest Towbars
Accredited towbar fitting specialist in Greater Manchester for all makes of car