Camplair
Products
A compact 4 berth trailer tent with a 2.3m awning ideal for long weekends or small families.
The Camplair S can be upgraded to a 6 berth and has a cabin that can be erected single handed and a very simple single hoop awning frame so it can be erected quickly by 1 person for short camping trips.
Our Price (Inc. VAT)   
£3,595.00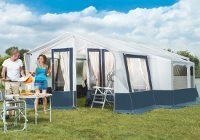 The Camplair XL is a large family Trailer Tent with sleeping space for 4 to 8 people and an extensive awning.
Made using better materials and a simpler erecting system than similarly priced Trailer tents, the Camplair XL has a 4m awning with adaptable front walls and a side extension for kitchen, toilet or wardrobe.
Price (Inc. VAT)   P.O.A.