Mail Order Phone:
Manchester Superstore:
Store Hours:
Used Folding Campers
USED FOLDING CAMPERS AVAILABLE FROM CAMPERLANDS.
For our current used stock visit our Used Trailer Tents page
To see what models of used Folding Camper are available from Camperlands please go to our Used Stock Page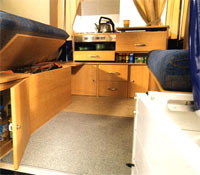 Trailer tents, folding campers and the Camp-let have grown in popularity in recent years and it is not hard to see why. Boasting higher levels of comfort than the current camping tent, whilst still preserving the joys of the great outdoors, the folding camper, Camp-let and trailer tent is a particular favourite among those who have previously owned caravans and motorhomes.
A step down you may think, yet every year, more and more people are waking up to the idea, that trailer tents, folding campers and Camp-lets can offer genuine advantages over the more luxurious caravan and motorhome.
Offering the customer an unrivalled camping experience, which does away with the time and cost involved in running and maintaining a caravan or motorhome. Trailer tents and folding campers can provide a very reasonable level of comfort at a fraction of the cost of a caravan or motorhome and what's more, they are also easier to tow, use less fuel and require far less storage space. Praised for the fact that devaluation figures are much easier on the back pocket.
Camperlands The Leading Providers Of Trailer Tents and Camp-lets
Here at Camperlands we pride ourselves on being the biggest trailer tent retailer in the UK, dedicated to displaying and demonstrating a comprehensive selection of new and used stock. Our trailer tent and folding camper stock includes many of the popular models that can be bought from camping outlets up and down the country. We are extremely pleased to be in a position to offer trailer tents, which cannot be found anywhere else in the UK and we are also the sole UK distributors for many top European manufacturers including OZTrail, Camplair, CampMaster, Camp-let and have in stock specially designed trailer tents from Trigano. Trailer tents can accommodate between two and eight people and are ideal for fun family and group holidays.
Similar to trailer tents but not as popular due to the towing size and general handling, folding campers make use of an enlarged chassis that can be as long as an 18ft caravan when erected. The larger size allows for the inclusion of features more commonly found on in caravans and motorhome's such as, 12v and 240v electrics, fitted fridges, heaters and cassette toilets, ovens, water heaters and sink and drainers.
The benefits of folding campers,when compared to caravans become evident when the folding camper is folded down such as, reduced height and length, which makes towing and storage much easier. The gross weight of a folding camper can be up to 50 per-cent less than some caravans. Folding campers require no pegging and take about 5-10 minutes to fully erect. Comfortable accommodation is provided for 4-6 people but this can be extended to 10 by utilising the awning and bedroom extensions.
Products
Conway Classic Second Hand - 2 X Front Walls, 1 X Side Wall - Good Condition
Our Price (Inc. VAT)   
£75.00

AgentFiamma
Unique and innovative range of caravan and motorhome accessories.
Northwest Towbars
Accredited towbar fitting specialist in Greater Manchester for all makes of car