Mail Order Phone:
Manchester Superstore:
Store Hours:
Tepee Trailer Tent
Camperlands have developed a new concept in Trailer Tent Camping - the Teepee Trailer tent. The Campmaster Tipi uses the tiny Campmaster trailer so it can be pulled by any car and many motorbikes, and combines it with a lightweight, quick drying Teepee Tent which can be pitched by one person in 8 minutes.
---
Also Available - Campmaster Air 2015
Come and see the latest Campmaster Trailer Tent on site at Camperlands Manchester or at the Motorhome and Caravan Show NEC in Birmingham from the 13th to 18nd Oct 2015.
The only inflatable 2 berth trailer tent in Europe available exclusively from Camperlands
Tepee, Teepee, Tipi?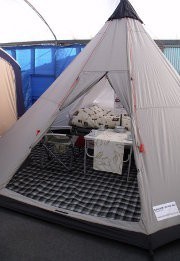 Designed and developed by Camperlands using over 35 years of Trailer Tent know how, the Campmaster Tipi is a 2 berth Trailer Tent exclusive to us. However you spell it, Teepee Trailer Tents offer the simplicity and ease of Tepee Tent design combined with the comfort of trailer tent so you sleep nicely off the ground in a warm, comfortable double bed.

The Campmaster Tipi is available exclusively from Camperlands and can only be seen at our undercover Trailer Tent display in Manchester. So, if you want to know more click the link for Camperlands location or contact us by phone (0161-902-3020 closed Wednesdays) or email trailertents@camperlands.co.uk
Ease and Comfort for 2
The Campmaster Tipi is new design of 2 berth Trailer Tent and a lot of thought has been put in to ensure it provides all the features and comfort you need in your home from home.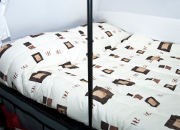 First the bed. Let's face it, if you're buying a Trailer Tent you want to be sleeping off the ground in a warm comfortable bed. Maybe your knees don't work as well as they used to, or maybe you just don't fancy another night sleeping on a cold, hard airbed. Either way the large, double bed of the Tipi will appeal with its quality, warm foam mattress on a solid ply base and at a height you can easily get in and out of.
Once you're out of bed you'll find there's plenty of room in the 4.5 x 4.5m Tepee with a roomy seating and dining area. Kit out your living room with your choice of furniture and accessories including tent tidies and an optional, custom made clip-on table.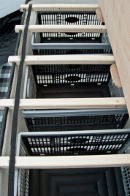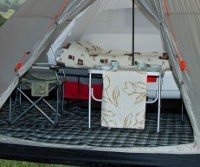 The Tepee itself is fitted with a sewn-in groundsheet to ensure the living area is always cosy and draft free and can be further fitted out with a specially made luxury interior carpet. There is a thick cotton inner tent covering the bed for extra heat in the bedroom (Ooh matron).
To keep your living area tidy, there's plenty of storage space in the trailer body. The bed base is hinged in the middle so you can simply lift the bed end to access the storage underneath. The image shows only ½ the space in the trailer lid with space for more behind the crates. The base of the trailer offers even more easily accessed storage.
Erecting and Set Up
Tepee Tents are notoriously easy to set up which is what makes them so popular with festival campers and other novices. To pitch the Campmaster Tipi simply peg out the canvas with 8 pegs, climb inside and insert one, straight pole to raise the centre of the tent. No bendy poles, no threading through sleeves and no bulky frame to assemble.
The Campmaster Tipi can be erected by 1 person with no experience and minimal effort. And, if it's windy, knock a few extra pegs in to secure the guylines.
To create your luxury teepee camping experience, once the tent is set up, roll the trailer inside and unfold your bed. Remember, all your gear is inside the trailer so will be kept dry and secure while you set up the tent and won't need unpacking from the car.
If you need space for more than 2 people, extra airbeds can be set up on the tent floor, or, take the tent without the trailer to sleep up to 8.
Big Car, Small Car, Bike?
The Campmaster Tipi is the smallest towing Trailer Tent in Europe. It's incredibly easy to tow, requires very little maintenance and has plenty of internal storage within the tiny trailer body.

The Campmaster trailer weighs a mere 115kg and measures just 1m wide by 1.9m long including the draw bar. It takes up the tiniest of space leaving the rest of your garage free for all that important stuff that is bound to come in handy some day.
Its small dimensions and low weight mean it can be towed by large and small cars and even inexperienced towers will have no problem with it. The swivel hitch and small dimensions mean it can also be towed by motorbikes, trikes, quad-bikes and scooters over 150cc. Click to see motorbike towing law.
Despite all the rubbish we all take camping nowadays, there's plenty of space for it in the Campmaster. As well as the tent, mattress and bedding, there's space for cooking equipment, clothes, stove, gas bottle, furniture and more. The base and lid of the trailer are hollow to accommodate your gear and there's a luggage rack on top for bulky items.
Learn More
The Campmaster Tipi is a unique 2 berth Trailer Tent made to a new design and available exclusively from Camperlands. To find out more give us a call on 0161-902-3020 or email or visit our Manchester Trailer Tent Display to see the Campmaster Tipi in the flesh.
For current deals and price information visit the Campmaster Tipi Page
Current Tepee Trailer Tent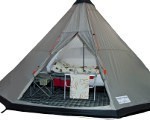 A brand new model for 2014. The Campmaster Tipi is a quick erect, 2 berth trailer tent. With only 1 pole and 8 main pegging points (plus guy lines in wet/windy conditions) it's quick and simple enough for anyone to erect single handed.
Price (Inc. VAT)   P.O.A.

AgentFiamma
Unique and innovative range of caravan and motorhome accessories.
Northwest Towbars
Accredited towbar fitting specialist in Greater Manchester for all makes of car