Mail Order Phone:
Manchester Superstore:
Store Hours:
Camp-let Furniture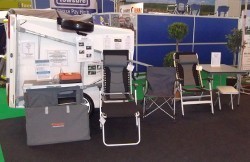 New Camp-let Furniture Range
New for 2013 and unveiled at the NEC in February, Camp-let have launched a new range of furniture. True to Camp-let's core values of quality, thoughtful design and ease of use we can introduce 2 exceptionally stable and comfortable Camping Chairs, a sturdy and robust folding camping table which will appeal to young families and 2 new camping cupboards that can pop-up faster than any other.
Made from top quality materials this is camping furniture you can expect to last and cope with all the demands of a camping family and life in the outdoors. Each piece of furniture has been designed to open and close quickly with the minimum of effort and pack to a small, easy to carry format.
With thoughtful design features which make them a pleasure to live with the new Camp-let furniture range should appeal to all campers and caravanners alike.
Camp-let Camping Chairs
Camp-let's new range of Camping Chairs includes 2 models, the Classic which is a fixed back folding chair, and the Premium camping recliner.
Camp-let Classic Chair

The Camp-let Classic Chair has a fixed back. There is foam padding built into the seat and upper back rest and the fixed arm-rests are also padded giving the Classic a more luxurious feel than other Camping Chairs.

The Sturdy cross-braced frame and broad feet ensure it won't shift under your weight so it's great as a dining chair and comfortable enough to spend a couple of hours in reading a book.

Since it's a Camp-let, the finish on these Camping Chairs is second to none with double stitched seams, rugged diamond rip-stop canvas and smart details such as a cup holder which can be clipped to either side of the chair.

Camp-let Premium Chair

The Camp-let Premium Chair is an 8 position camping recliner with cushions built into the seat and backrest. It's elastic sprung making it both supportive and luxurious. The cushioned head rest can be adjusted to suit any camper.

The sturdy frame is made from lightweight Aluminium with joints fixed with major supports fixed with both screws and brackets for added strength. For the same reason the seat base and lower backrest are double sprung to ensure they last well.

The Camp-let Premium Camping Chairs also have the option of fitting a Premium footrest. The footrest is supplied with brackets which screw to the chair. Once fitted simply clip or unclip the footrest from the Premium Chair as needed. And, as you would expect, both the chair and footrest pack to a convenient flat pack.
Camp-let Camping Tables
Camp-let now produce a large Camping Table which is exceptionally robust and stable as well as a small folding stool which can be fitted with a table top. The Camp-let Jumbo is a very solid Camping Table which is especially rugged and suited to life outdoors and is well designed to be safe for families with small children.
The Camp-let Jumbo Table has a chunky, impact resistant plastic table top which is large enough (120 x 80cm) to be used as a dining table and stable enough for a worktop.

The rugged plastic construction means it won't warp or deform if it gets caught in the rain like a cheap camping table might.

The folding legs are made from powder coated steel with securely locking hinges. three of the legs have rounded plastic feet to protect groundsheets and the fourth leg is fitted with a screw adjuster to keep the table level.

The details of this camping table will appeal to young families as it has rounded corners and a plastic edging strip so there are no sharp edges to bump little heads.

The Camp-let Table with Stool does exactly what you would expect. Use the stool on its own or fit the table top to make a handy side table for drinks and a book.

The frame of the stool and table is made from Aluminium making it light enough to take anywhere and it won't rust.

The Camp-let Table with stool is an ideal bit of kit to keep in the car. A handy to have seat for fairs and shows, picnics or days at the beach, or, an extra worktop, side table or play table on the campsite.

When folded the stool packs elegantly inside the table which has a handle and becomes the carry case.
Camp-let Quick Erect Cupboards
Camp-lets new furniture range includes 2 Camping Cupboards which both use the same simple pop-up design. Choose between the Classic and Premium models depending how big a worktop and how much storage you want. Both pop-up in seconds an are as easy as you'd expect from Camp-let.
The frame on the Camp-let's storage cupboards is made from Aluminium tube with tough locking hinges. The tubes remain in place when the cupboard is packed and simply pop-up and lock securely in place when setting up.

Both of Camp-let's new Camping Cupboards fold away to become their own elegant and easy to carry hard case, and both set up in only a few seconds with no assembly required.

The Classic Cupboard has 3 solid internal shelves and a medium size worktop (61 x 49cm) while the larger Premium Cupboard has 6 solid shelves and is big enough to be used as a camp kitchen (84 x 51cm). Both cupboards have handy pockets on both sides for small items.



Regular Camp-let Quality
All of the new Camp-let furniture is built to the highest standards in keeping with what you have come to expect from Camp-let. Any of the items will fit inside or on top of the Camp-let trailer but of course you don't have to own a Camp-let Trailer Tent to enjoy their furniture.

AgentFiamma
Unique and innovative range of caravan and motorhome accessories.
Northwest Towbars
Accredited towbar fitting specialist in Greater Manchester for all makes of car