Mail Order Phone:
Manchester Superstore:
Store Hours:
Camp-let Classic Plus
3 Bedroom Camp-let Especially for Families
Special edition Camp-let supplied complete with additional kit in a package designed to appeal specially to growing families.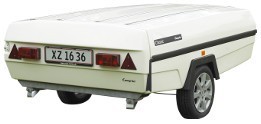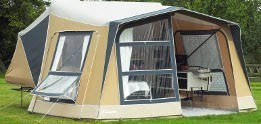 Camp-let Classic Plus
The Camp-let Classic Plus uses the 5th generation Camp-let trailer as its base due to the increased internal storage space it offers. It is fitted with the attractive Mocha / Blue canvas set in breathable, high quality cotton normally found on the Adventure.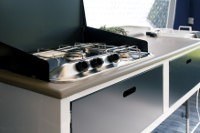 Kitchen as Standard
Being mounted on the Classic trailer, the Classic Plus is equipped with the Standard Camp-let kitchen complete with running water, sink, large worktop and 3 burner stove. When open, the kitchen also has a low shelf, ideal for pots and pans, and storage cupboards. It swings neatly into the rear of the trailer when closed.
Increased Luggage Capacity
Because the 5th generation trailer has a taller lid it offers greater internal storage space. The fourth gen could carry a lot but the 5th gen has ~25% more space for larger families with more gear. You will easily fit the supplied canopy and annex plus bedding, luggage and pots, pans and utensils in the kitchen. An optional luggage rack is also available.
Extras Make Camp-let a Family Trailer Tent
The Classic Plus package includes a side annex making this a 3 bedroom Camp-let with the option for more. It also includes the Deluxe Sun Canopy, increasing the covered area, to which side walls can be fitted if wanted.
Because it uses the Adventure canvas with its apex roof, the Classic Plus can be extended further by fitting and additional awning and annexes.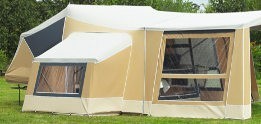 Including the side annex with the Classic Plus makes this a 3 bedroom Camp-let, ideal for a family of 6 or with older kids wanting separate bedrooms. Alternatively, the annex could be used as a toilet or storage area and there is no need to detach the canvas to pack the trailer away.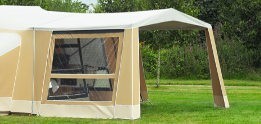 The Deluxe Sun Canopy covers a large area providing shelter from sun or rain and giving sheltered entry to the main awning allowing you to leave the front open on warm, wet days. It also offers a place to sit out on warm evenings.
Shown with optional side wall fitted.
---

AgentFiamma
Unique and innovative range of caravan and motorhome accessories.
Northwest Towbars
Accredited towbar fitting specialist in Greater Manchester for all makes of car