Mail Order Phone:
Manchester Superstore:
Store Hours:
Camp-let Classic Concorde
Concorde with Added Carrying Capacity
Special edition trailer tent based on Camp-let's best seller with a focus on maximum luggage capacity.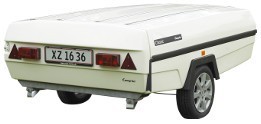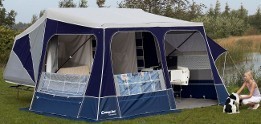 Camp-let Classic Concorde
The Concorde is Camp-let's most popular model and the Classic Concorde offers all its features but has been customised to increase storage space. Upgraded to the 5th generation trailer with more internal space, the Classic Concorde is also fitted with a trailer top carry rack, usually an option of 5th generation trailers.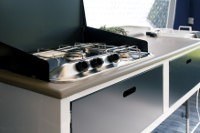 Rear Swing Kitchen
Being mounted on the Classic trailer, the Classic Concorde is equipped with the standard Camp-let kitchen complete with running water, sink, large worktop and 3 burner stove. When open, the kitchen also has a hanging wire shelf, ideal for pots and pans, and storage cupboards. The kitchen swings neatly into the rear of the trailer when closed.
5th Generation Trailer
The taller lid of the 5th generation trailer means that, when folded, it offers ~25% more storage inside than the previous version meaning more space for items such as bedding, clothes, kitchen gear and furniture.
Nothing Left Out
The Classic Concorde boasts all the features of the original so you get 2 x double beds, a spacious awning and assorted luxuries. The top quality cotton canvas features 3 large veranda panels with windows and rear bedroom vents for greater breathability. It also has handy storage features including wardrobe, pelmet with pockets and underbed luggage space.
An optional anex and range of sun canopies are available for the Concorde.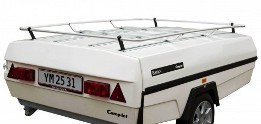 Usually an option on the 5th generation trailer, the luggage rack is included with the Classic Concorde allowing you to easily transport bulky items such as small boats, fishing gear and golf clubs. You can also still fit an optional bike rack if wanted and neither need to be removed to erect the tent.

AgentFiamma
Unique and innovative range of caravan and motorhome accessories.
Northwest Towbars
Accredited towbar fitting specialist in Greater Manchester for all makes of car