Mail Order Phone:
Manchester Superstore:
Store Hours:
Buy the Best Sleeping Bag
After having made it to your destination and successfully conquered the challenge of pitching the tent, there's nothing you want more than a good night's sleep to make you feel refreshed, invigorated and ready to make the most of your holiday.
The key to a good night's sleep when camping is having the right sleeping bag and bed. But how do you decide between the hundreds of 'bags out there? What do you need to know to make sure you get the best sleeping bag for you? When buying, put some thought into what you need, how you're going to use it, and don't scrimp.
We're a shop, of course we'll tell you to spend money. But it's our opinion the most important bits of camping kit are your tent, your bed and your sleeping bag. Spend what you need to buy quality. If you need to save money, buy a cheap light or take your pan set from home, and spend what you save on these 3 essentials.
If you're cold, wet and tired it's not a holiday. If you're warm, dry and well rested you can deal with anything.
So, what do you need to consider? Sleeping bags are designed to keep you warm and comfortable by keeping your body heat in but there's more to it than just warmth. Here's our guide to what to look for to make sure you get the best sleeping bag and the best night's sleep.
Sleeping Bag Temperature Ratings – EN13537
When looking at temperature ratings and comparing sleeping bags look out for European standard EN13537. This is a strict, standardised and independent test which involves putting a heated dummy with 17 heat sensors into the sleeping bag and measuring how well heat is retained by the 'bag.
This test ensures consistency and accuracy of ratings on sleeping bags so you can compare models and be sure they're measured to the same standard. It's used by most major manufacturers including Outwell, Vango and Coleman.
If you come across published temperature ratings that aren't EN13537, ignore them. They might be accurate, or it might just be someone at the factory picking numbers out of the air. All temperature ratings on our website are EN13537 certified.
Understanding the ratings

Once a sleeping bag has been tested to EN13537 standards it will be given 4 temperature ratings. This looks complicated and can be difficult to read so here's what they mean:
Upper Limit - The highest number is called the 'Upper Limit' and is the highest temperature at which a man is comfortable in the sleeping bag. It is measured with the zips open and arms outside the 'bag.
Comfort Temp - The 2nd highest number is the 'Comfort Temp'. This is the lowest temperature a woman would be comfortable sleeping in a relaxed position.
Limit Temp - Next is the 'Limit Temp'. This is considered the lowest temp and adult male can sleep in a curled position without waking. This might not be cosy but you will get some sleep.
Extreme Temp - The lowest number is known as the 'Extreme Temperature'. According to Wikipedia this is the minimum temperature a standard woman can remain for six hours without risk of death from hypothermia (though frostbite is still possible)
When choosing your sleeping bag, think about the time of year you camp, the likely overnight temperatures and pick a bag where you'll stick between the 2 highest numbers (Upper Limit Temp and Comfort Temp). Then, if it's colder than expected, you can stick a jumper and some woolly socks on and you can still be comfortable at the Limit Temp.
It's probably best not to put the extreme temp to the test.
Sleeping Bag Season Ratings
Season ratings are another way of measuring the warmth and expected performance of a sleeping bag. They are a much simpler way to compare sleeping bags and are much easier to understand. However, there is no standard test for temperature ratings so be wary of choosing a sleeping bag based on this measure alone.
Although there's no definitive standard for season ratings here's a rough guide to what you'd expect to use them for.
1 Season Sleeping Bag – Home sleepovers or fair weather caravanning
2 season sleeping bag – Caravan bag or entry level spring and summer camping bag
3 season sleeping bag – Warm and cosy sleeping bag for spring and summer camping.
4 Season sleeping bag – High performance sleeping bag for camping throughout the year in most areas of the UK
5 season – High performance 'bag for Nordic and Alpine adventures
5+ Season – You're going camping when you think you might need a 5+ season sleeping bag!?! See a psychiatrist.
The best way to use season ratings is to narrow the field and decide if a sleeping bag is worth putting on your shortlist. Figure out what season rating your likely to need, dismiss anything that's outside your range and, once you've got it down to a few models, use the EN13537 temperature ratings to help make you final decision.
Sleeping Bag Construction
A layer of a sleeping bag is a lot like a pillow or duvet. There are 2 sheets of material on the outside with stuffing in between. However, just like a cheap duvet, if you don't stop it all the stuffing can end up at one end of the 'bag leaving you with hot shoulders and cold toes.
In order to keep the stuffing in place there are a few methods that sleeping bag manufacturers try but these can affect the warmth of the bag so they're worth knowing about.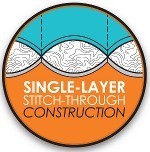 Single Layer / Stitch Through Construction
The simplest (and cheapest) way to hold the stuffing in place is to stitch straight through the sleeping bag. This creates little pockets and pins the stuffing in place so it can't all move to one end. However, it also squashes the stuffing flat and puts little needle holes straight through the bag where the stitching is creating cold spots where heat can escape.
Double Layer Offset Construction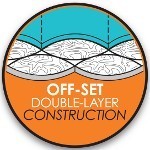 Similar to single layer but with 2 levels of stuffing with a lining material in between. The bottom layer of stuffing is stitched through and so is the top layer but the stitching lines are in different places (offset). This means there is no point where stitching goes right through the 'bag from inside to outside. This means there's always some stuffing which is fluffed up and so reduces cold spots and heat loss.
Box Wall Construction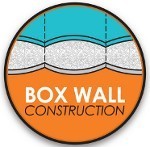 Rather than stitch through the sleeping bag to hold the stuffing in place, there are walls from the inner lining to the outer lining which creates 'pockets' (or 'boxes') of stuffing which can't move around. This not only means no stitching holes for heat to leak out through, but also means the stuffing isn't squashed flat at any point.
It's actually the air in the stuffing and not the stuffing itself which holds the heat and keeps you warm in a sleeping bag. So, the more air (and less flat spots) there is, the more fluffed up the 'bag will be and the better it will perform. In sleeping bags this is called "loft".
Box wall construction is the best but requires more materials and more time to make, so of course it's the most expensive.
Filling / Stuffing
OK, at this point we're going to cheat. I don't have a PhD in Materials Science and you can really get bogged down in the details here. Do you want "Single hole siliconised hollow fibre" or "Insulite Superfine spiralised, siliconised" or "4 hole isofill"? Don't know? Don't care as long as it keep you warm? Welcome to the club.
Your choice basically boils down to a synthetic filling or down (feathers). Everything after that is just little variations and different manufacturers' own proprietary names. So, which do you want?
Down bags can provide superior warmth for really very small pack sizes, but performance can be compromised when they get damp and they require a bit more care. Synthetic bags might not pack quite as small as down, but for family camping and most UK expeditions they're plenty warm enough. Synthetic 'bags are also cheaper and require less maintenance. Pretty much all the sleeping bags we sell are Synthetic filled.
Carrying / Pack Size
Once you've checked out the performance of the 'bag and are happy it meets your requirements, don't forget to look at the pack size and weight. If you're going to a big festival it might be a long walk from the entrance to your camping pitch. If you're hiking it needs to fit in your rucksack and if you're camping with a family boot space is always tight. Make sure your new sleeping bag will fit in the space you've get left for it and don't forget when it's not in use you've got to store it somewhere at home as well.
Check you can handle the weight if you have to carry it any distance and remember you'll probably have a lot of other kit to carry at the same time. If you've got a particular space for your sleeping bag check it's going to fit and also check if the carry bag has a compression strap and a carrying handle to make life easier.
Other Considerations
A good sleeping bag should be warm AND comfortable. Here are a few other useful features to look for to make sure you get the best sleeping bag.
Shape – Mummy or Square?
Mummy bags are shaped (wide at the top and narrower at the foot). This snug fit usually means better warmth from the same material as well as slightly less weight to the 'bag. However, some people are more comfortable in the square shape as it's less restrictive if you move about a lot in your sleep. This one's down to personal choice.
Hooded or Not?
Your mum always made you wear a hat when it's cold, right? 40% of body heat is lost through your head. A hood on a sleeping bag keeps this heat in and most have a drawstring so can be loosened or pulled tighter as needed.
Features
Draw string shoulder baffle, covered zips to keep off the cold metal, double ended zip so you can stick your feet out when it's hot. All make a difference to how comfortable you'll be in your sleeping bag.
Shell materials and inner Liners
Nylon, cotton, polycotton, brushed polyester, flannel or fleece. It's all personal preference. Feel them for yourself and see what you like.
Try Before you buy
You can buy a 15 Tog duvet and know you'll be warm, but the feel of your sheets makes a big difference to how nice you bed is. Sleeping bags are about comfort as well as warmth so, if you can, visit a shop and feel the bag before buying to make sure you're going to be happy with it.
All our sleeping bags are out on display and there's beds out too so you can get in and test them. Read the info, feel the liner, check the shape for fit, get in and see if it's warm enough. Please just remember to take your shoes off before climbing in.

AgentFiamma
Unique and innovative range of caravan and motorhome accessories.
Northwest Towbars
Accredited towbar fitting specialist in Greater Manchester for all makes of car