Bulldog
Products
Set of replacement front and rear friction pads for Al-Ko 2004 Caravan Stabiliser.
Our Price (Inc. VAT)   
£26.50
Replacement locking stud for car plate on Bulldog caravan stabilisers
Our Price (Inc. VAT)   
£5.75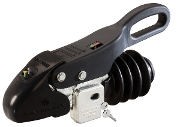 Bolt on hitch head with integrated caravan stabiliser suitable for all swan neck towbars. The Winterhoff WS3000 features axial as well as lateral friction pads to eliminate both snaking and pitch motions caused by uneven roads surfaces.
With 300Kg towing capacity, the Winterhoff is suitable for larger caravans and trailers and can be locked in either hitched or un-hitched positions with the optional security device.
Our Price (Inc. VAT)   
£368.99