Mail Order Phone:
Manchester Superstore:
Store Hours:
Camplair Trailer Tents

AgentFiamma
Unique and innovative range of caravan and motorhome accessories.
Northwest Towbars
Accredited towbar fitting specialist in Greater Manchester for all makes of car
The Trailer Tents of Camplair have changed a lot since the 70s and now offer campers the comfort and look they desire today. The new 2017 Camplair S is the most affordable Trailer Tent on the market. With high quality standards and a simpler erecting process the Camplair S really stands out.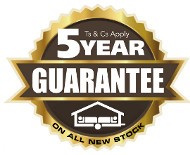 The new Camplair Trailer Tents are entirely designed and manufactured within the French group, Trigano, who are the largest manufacturer of Trailer Tents in Europe. They represent great value for money alongside other Trigano Group brands which include Raclet, Jamet and Trigano Trailer Tents. With the introduction of Camperlands' 5 year guarantee (Ts and Cs apply) the Camplair S is great value for money
Although not as expensive, the Camplair benefits from Trigano's know-how and experience in all steps of production including, stitching, frame production, assembly and quality control.
Space, Light & Comfort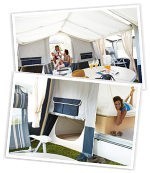 The 2017 Camplair S Trailer Tent offers space, light and comfort with an adaptable awning to suit both touring families and long stay camping. The standard awning of the Camplair S is 2.3m deep, and a 1.7m awning extension is available, meaning the Camplair S can be made to accommodate both small and large families.
Fit just the standard awning for quick pitching and ample space for short stay camping, or, add the awning extension to create a 4m living space. With 2 large double beds within the cabin and the option of upgrading to 6 by fitting under-bed sleeping compartments there's space for all the family.
Value, Quality and Ease
The components used in the Camplair are selected very carefully to offer value for money, comfort and longevity. For example, the cotton is high quality Ten Cate canvas which out-performs cheap cotton / acrylic canvasses and is waterproof, airy and has an excellent lifespan.
Because Camplair is part of the Trigano Group it utilises the Raclet and Trigano opening system which is a far easier opening system than many other brands. The cabin can be erected by one person with the beds, frame, canvas and inners all deploying at the same time.

This simpler, quicker system makes the Camplair S an attractive option as a weekend Trailer Tent and means either model can be erected by 1 person while the other parent keeps an eye on the kids.
Versatile Camplair S Options
2015 saw the introduction of an optional zip-on awning extension which makes the Camplair S completely versatile. It can be used in a various combinations to suit you and your family's needs.
Cabin on its own for a quick overnight stop.
Cabin with one awning for overnight and weekend use.
Cabin with main awning and extension awning.
The walls from the main awning are designed to zip into the front of the extension awning. With both awnings erected and the walls zipped into the extension, the Camplair S is an enormous open spaced trailer tent for those bad weather days. With both awnings erected and the walls zipped back into the main awning you have created a two sided sun canopy / shelter / BBQ area.
Extra walls are now available as an option. These optional walls fit Camplair S models from 2015 in the grey colour scheme. The walls will fit either the main or extension awning meaning, when both awnings are set up, you can have two separate completely walled awning rooms for various uses.
Current Camplair Model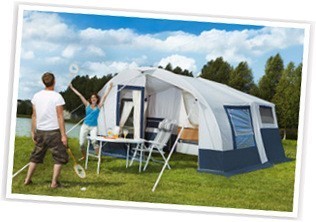 The Camplair S has a smaller, single hoop awning for quick, simple pitching. Once the cabin is erected, zip on the awning canvas, fit the front hoop and pull the awning to full height. Its quick, single handed pitching makes it a great touring Trailer Tent and the 2.3m awning offers plenty of space for long weekends or a small family.
Current Camplair Trailer Tents
A compact 4 berth trailer tent with a 2.3m awning ideal for long weekends or small families.
The Camplair S can be upgraded to a 6 berth and has a cabin that can be erected single handed and a very simple single hoop awning frame so it can be erected quickly by 1 person for short camping trips.
Our Price (Inc. VAT)   
£3,150.00
Previous Camplair Trailer Tents