Mail Order Phone:
Mail Order Hours:
Manchester Superstore:
Store Hours:


Trailer Tent Display

AgentFiamma
Unique and innovative range of caravan and motorhome accessories.
Camp-let UK
Multi-award winning Camp-let trailer tents are the best for quality, design and ease of use.
Northwest Towbars
Accredited towbar fitting specialist in Greater Manchester for all makes of car
Trailer Tent Display - Now Closed
Camperlands have now taken down our new and used trailer tent dispay. Trailers can still be pre ordered on clearance prices (see offers pages). Keep an eye on the website or sign up for our newsletter to find out when it re-opens
Camperlands' Camp-let and Trailer Tent Display area is the biggest dedicated display in the country with a combined area of over 7,000sq feet for Trailer tents and Folding Campers alone. This extensive space allows us to have up-to 30 models erected and available for demonstration at any one time with displays for both new and Second Hand Trailer Tents.
Expert staff are always on hand to offer advice and information and answer any questions you may have. Our under-cover display is open year round and can be viewed in all weathers alongside an extensive tent and awning display as well as Camping Equipment and Caravan Accessory shop at our Manchester showground.
Trailer Tent Display – New Sales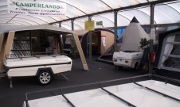 Our permanent, under-cover display of new Trailer Tents features models from an assortment of manufacturers including Camp-let, Trigano, Jamet, Sunncamp and Campmaster. It features many unique models and is the only place in the UK you can see the Camp-let Trailer Tents on display throughout the year.
As well as fully erected models on display there are also demonstration models for erecting so you can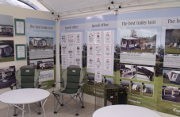 see how easy or hard it is to erect each model.
Take your time to wander round the display, see all the models, watch the demonstrations and ask all your questions. Then, sit down in our seating area, check the offers board for all the deals available and take your time to consider your options and make your decision.
Trailer Tent Display – Used Sales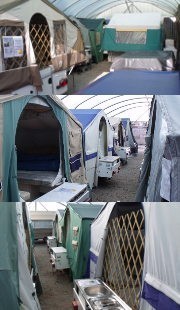 At any time Camperlands can have up-to 30 Second Hand Trailer Tents in stock and up-to 15 on display with more which can be opened on request. Our main second hand display is also under-cover so can be viewed in any weather.
We sell both Trailer Tents and Folding Campers second hand, have both on display and, because we are the UK's biggest Trailer Tent dealer, our display is constantly changing and being updated with new models coming in all the time.
Second Hand Trailer tents can be viewed folded up or opened and you can buy with peace of mind knowing every trailer is checked and serviced when they are sold.
Trailer Tent Display - Unique Models
As well as being the only place to see the Camp-let Trailer Tents at any time of year, Camperlands also display other unique and Special Edition trailer tents that you won't be able to see anywhere else.
---
Camp-let Limited Editions
Obviously, as the UK importers, Camperlands is the place to go to see the Camp-let range. But, Camp-let also produce limited Special Editions models exclusively for the UK market and these often feature in our display.
---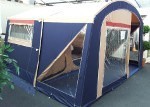 Trigano Swift
The Trigano Swift is a specially made Trailer Tent with a compact awning not available anywhere else. Ideally suited for couples or a family of 4 on short breaks, the Swift offers 2 comfortable double beds, a compact trailer for easy towing, and a 1.7m awning complete with bucket groundsheet and can only be seen at Camperlands Manchester showground.
---
Campmaster Tipi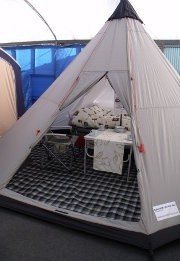 Another Trailer Tent you can only see at Camperlands is the Campmaster Tipi. A compact 2 Berth Trailer Tent which uses a lightweight trailer and a quick erect Tepee design tent. The Tourmaster trailer measures only 140cm long and 100cm wide and, at only 110kg, can be towed by even the smallest of cars and even motorbikes. Call on 0161-902-3020 to check your vehicle.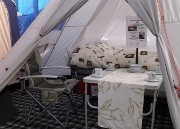 Once set up you'll find the quick erect tepee tent contains a comfortable 2 berth bedroom with roomy seating and dining area. A brand new concept for 2013, this Tepee Trailer Tent can only be seen at Camperlands.
More details on Campmaster Tipi Trailer Tents.