Mail Order Phone:
Manchester Superstore:
Store Hours:
Campmaster Trailer Tents

AgentFiamma
Unique and innovative range of caravan and motorhome accessories.
Camp-let UK
Multi-award winning Camp-let trailer tents are the best for quality, design and ease of use.
Northwest Towbars
Accredited towbar fitting specialist in Greater Manchester for all makes of car
2014 Trailer Tent Display - Now Open
The new 2014 display of new and used Trailer Tents is now open at our new premises. Come and see us soon at:

Camperlands Ltd
Vincent Works
Leestone Road
Sharston Industrial Area
Manchester
M22 4RN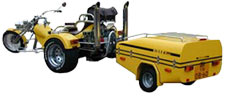 The CampMaster is the most compact and easy to use trailer tent available in the UK to date, yet despite its diminutive dimensions it can comfortably accommodate two people! CampMaster trailer tents are versatile and requires very little storage space when not in use.
The lightweight and compact design of the CampMaster makes it ideal for touring holidays truly unique and logical choice for those with small cars and believe it or not - motorbikes! Ideal for touring whether you are planning your next camping holiday or bike rally, plan to tour the country, or require a more permanent base for a holiday break, the CampMaster can fulfil your needs.
COMBINED TRAILER TENT AND MULTI-PURPOSE LUGGAGE TRAILER
The innovative opening system has the pole work, canvas and bed attached to and hinged inside the trailer which, makes setting up the CampMaster quick and simple. The 2013 Campmaster Tipi can be erected in around 5 to 6 minutes including pegging. The complete Trailer Tent including bed, tent canvas, tent pole work and inner tent are all housed in the lid with room to spare. It is hard to believe that the bottom half of the trailer is empty, providing around 500 litre's of secure storage space, ideal for camping equipment, clothing and particularly useful to motorcyclists. The folding system can even be detached and easily converting the trailer tent into a very high quality luggage trailer.
QUALITY THROUGH AND THROUGH
Only the best materials are used for the production of these unique trailers. The complete body of the trailer is made from reinforced high quality glass fibre polyester, which is complimented with a 100% 280 GRM Ten Cate cotton canvas. The chassis and coupling are galvanized and for greater luggage storage the CampMaster is fitted with a luggage rack. A revolving 50mm coupling is fitted for motorcyclists and a fixed coupling for use with motor vehicles. The body of the CampMaster is available in black or white, some owners choose to customise the colour to match that of the towing vehicle.
MODELS
New for 2013 is the Campmaster Tipi. Prior to 2013 models included the Campmaster 2 and Campmaster 4, and the Campmaster Drenthe. The weight of the 2013 Campmaster is still only 110kg, which make the Campmaster the lightest Trailer Tent in Europe. You have probably pushed around heavier shopping trolleys.
Small Wonder - "Camping Magazine" Review
Read the CampMaster review by Andy Stothert from the "Camping Magazine".
Read about UK motorbike Towing Law to see if you can tow the Campmaster
Current Campmaster Trailer Tents
All Campmaster Trailer Tents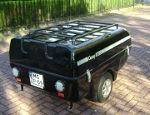 The Campmaster Drenthe is a 2 berth trailer tent that can be towed by even the smallest cars as well as motorbieks, trikes and scooters.
The CampMaster can't really be compared with anything else on the market. If you are looking for the most compact trailer tent money can buy, look no further than the 2012 Campmaster Drenthe for your next camping holiday.
Price (Inc. VAT)   P.O.A.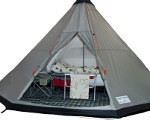 A brand new model for 2014. The Campmaster Tipi is a quick erect, 2 berth trailer tent. With only 1 pole and 8 main pegging points (plus guy lines in wet/windy conditions) it's quick and simple enough for anyone to erect single handed.
Price (Inc. VAT)   P.O.A.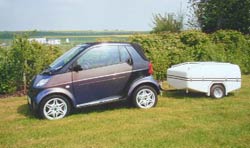 The Campmaster is the most compact 2 to 4 berth trailertent on the market. Ideal for solo motorcyles, trikes or small cars they offer a tiny trailer with an unbelievable amount of living space once erected.
Price (Inc. VAT)   P.O.A.