Mail Order Phone:
Mail Order Hours:
Manchester Superstore:
Store Hours:


Where to see Camp-let

AgentFiamma
Unique and innovative range of caravan and motorhome accessories.
Camp-let UK
Multi-award winning Camp-let trailer tents are the best for quality, design and ease of use.
Northwest Towbars
Accredited towbar fitting specialist in Greater Manchester for all makes of car
Trailer Tent Display - Now Closed
Camperlands have now taken down our new and used trailer tent dispay. Trailers can still be pre ordered on clearance prices (see offers pages). Keep an eye on the website or sign up for our newsletter to find out when it re-opens
Camperlands are proud to be appointed as sole UK importer of the Camp-let Trailer Tents. You can see them all year round at our undercover Manchester Trailer Tent Display where we always have a range of models on display and a demonstrator going up and down all day.
However, every once in a while we like to take the Camp-let on a road-trip so here's where else you can see the Camp-let in 2013.
February 19th - 24th - NEC Birmingham
Organised by the National Caravan Council this national event is the first opportunity for people from the Midlands and South to see the Camp-let outside Manchester.

This is where we kick off our season and it will see the introduction of many new Limited Edition Camp-let models and will be the launch of the Camp-let Furniture range. It may be only half-way to London but with all the latest camping gear, new caravans and motorhomes, activities and attractions, as well as the opportunity to see the Camp-let alongside the competition, it's well worth the trip.
And since it's being held at the NEC, it should be easy for people from all over the country to get to by car, plane, train and bus. Click the link for how to get to the Spring Caravan and Camping Show.
---
March 22nd - 24th - S&P Leisure Suffolk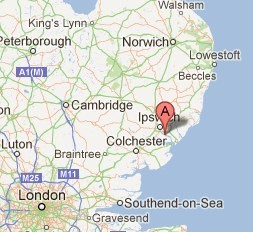 The Camp-let comes South. The Mancunians have left the North and made it past the Watford Gap. Camperlands have arranged a special weekend with S&P Leisure of Ipswich so the Camp-let will be setting out and coming to visit them so you can see the Camp-let in Suffolk.
As usual when Camp-let hits the road there'll be a range of display models and a demonstrator for you to see all the best the Camp-let has to offer. Our hosts have made space for us so we'll be setting up on the S&P Leisure site just off the A12/A14 putting us within an hour or so of Colchester, Chelmsford, Cambridge and Norwich and just outside Ipswich.
Click the link for S&P Leisure location
Want to find out more? View Camp-let Trailer Tent range or Request a brochure.
---
October 15th to 20th - NEC Birmingham
Returning to the NEC for the end of the camping season, Camp-let comes to the Motorhome & Caravan Show. Over 90,000 people attended the show in 2012 and you can already win tickets for this year's show.
Of course Camp-let will be there alongside the other major Trailer Tent manufacturers as well as all the big names in caravanning, motorhomes and camping.
---
Permanent Trailer Tent Display - Manchester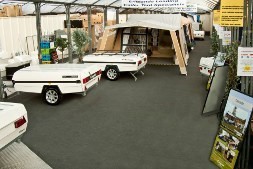 Of course you can also see the Camp-let throughout the year at our permanent, undercover Trailer Tent Display in Manchester where you will find the biggest selection of new and used Trailer Tents in the UK.
As well as being the only place to see the Camp-let at any time of year, there are also other unique and exclusive models including specially made models from big manufacturers and a new Teepee Trailer Tent.
Lookup our location and come and visit Camperlands' Manchester Camping Store
---