Camp-let Trailer Tents built to last just like their owners.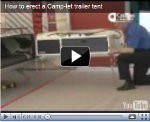 AgentFiamma
Unique and innovative range of caravan and motorhome accessories.
Northwest Towbars
Accredited towbar fitting specialist in Greater Manchester for all makes of car

Synopsis:
Camp-let trailer tent reaches benchmark and still going strong.
| | | | |
| --- | --- | --- | --- |
| Category: Blog | Posted: 09/08/2012 06:56 | Views: 5779 | Comments: 2 [Read/Post] |
---
You may be interested to know that we have recently completed 365 nights camping in our Camp let Concorde (bought as an ex-indoor demonstrator from Attwoolls in October 1993). We have had a great deal of comfort and enjoyment, with only minimal maintenance and problems. It has never been reproofed and is still completely waterproof, although we must have had at least our share of violent wind and torrential rain.
The rack has carried a variety of our boats (we like to combine boating and camping when we can) and an occasional other load with no trouble.
We have been to numerous shows and venues, and have never seen anything we would willingly change for our Concorde, except possibly a more modern Camp let, particularly with 'gas assist'.
It has not yet quite achieved the landmarks of being 20 years old or having been towed for 20000 miles, but watch this space - it is nearly 19 years since we bought it, and we estimate our towed mileage as nearly 19000 miles. We plan to continue camping - I am 81 and my wife is 74.
John and Kathleen Hardy
Comments on Camp-let Trailer Tents built to last just like their owners.
Jenny

31/08/2013 08:24


Brilliant - may you have many years of happy camping ahead. Just bought my first Camplet, a Savanne, from Camperlands. It's my retirement present to me, and I hope at last to use my freedom get lots of travelling under my belt. At the same age as Mark, I am glad to see he finds it easier than a caravan and that the bed-height is right. SO comfortable, especially with the memory foam topper! After a trial weekend, I'm off to France shortly. For newbies: I have never towed anything before, but it's incredibly easy to tow (you CAN see it behind you from a family car, which I really worried about) and I've learnt to reverse it into place fairly easily within one practice session. I recommend the Thule detachable towbar - excellent buy, so easy to fit/remove and no projection at all when off. Great job from Tow Bars North West. The jockey wheel was an absolutely worthwhile extra. The Camplet will be stored on its side in my garage - so much better than storing a caravan or paying tax and insurance on a campervan. Here's to many years of freedom for us all!
mark harvey

28/10/2012 16:14


Wow.Thats a real achievement by both yourselves and the camp-let concorde.I purchased a camp-let concorde in 2007.Been to france and spain and done around 7000 miles to date.The best bit of kit I have ever owned.I use to have a caravan but glad I changed to my camp-let.
I am 62 and find the camp-let far easier to handle than the caravan and the beds are better as they are at the right height.

Mark Harvey
---
Share comments