Blog
Categories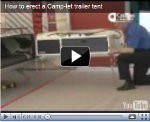 AgentFiamma
Unique and innovative range of caravan and motorhome accessories.
Camp-let UK
Multi-award winning Camp-let trailer tents are the best for quality, design and ease of use.
Northwest Towbars
Accredited towbar fitting specialist in Greater Manchester for all makes of car
Welcome to Camperlands' new blog. Come here for all the latest Trailer Tent news and information on all things Camping and Caravan. Keep upto date with the latest offers on Trailer Tents, Camping Equipment and Caravan Accessories.
Subcategories:
Trailer Service & Repair
,
Articles
Blog Entries

| | | | |
| --- | --- | --- | --- |
| Category: Blog | Posted: 05/02/2015 06:45 | Views: 8290 | Comments: 0 |
---
| | | | |
| --- | --- | --- | --- |
| Category: Blog | Posted: 01/02/2015 10:15 | Views: 5730 | Comments: 0 |
---

| | | | |
| --- | --- | --- | --- |
| Category: Blog | Posted: 25/09/2014 06:33 | Views: 45554 | Comments: 1 |
---

| | | | |
| --- | --- | --- | --- |
| Category: Blog | Posted: 01/09/2014 11:38 | Views: 2075 | Comments: 0 |
---

| | | | |
| --- | --- | --- | --- |
| Category: Blog | Posted: 28/06/2014 08:42 | Views: 8132 | Comments: 0 |
---

| | | | |
| --- | --- | --- | --- |
| Category: Blog | Posted: 14/02/2014 08:57 | Views: 3396 | Comments: 0 |
---
| | | | |
| --- | --- | --- | --- |
| Category: Blog | Posted: 12/02/2014 12:24 | Views: 11795 | Comments: 0 |
---
| | | | |
| --- | --- | --- | --- |
| Category: Blog | Posted: 02/12/2013 09:42 | Views: 19570 | Comments: 0 |
---

| | | | |
| --- | --- | --- | --- |
| Category: Blog | Posted: 25/11/2013 09:05 | Views: 7038 | Comments: 0 |
---

| | | | |
| --- | --- | --- | --- |
| Category: Blog | Posted: 04/10/2013 07:26 | Views: 2202 | Comments: 3 |
---